Premier Annual Conference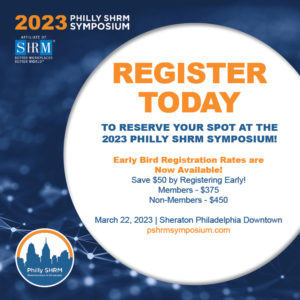 We will hold our 2023 Symposium on March 22, 2023 at the Sheraton Philadelphia Downtown. This event features a dynamic keynote and closing session speaker, our CHRO panel, and multiple thought-provoking breakout sessions.
Want to get your company in front of 400+ HR professionals? Sponsor the Symposium! Email us at info@pshrmsymposium.com to request information.
Looking for a great educational and networking opportunity?
The Philly SHRM Symposium is the premier event for HR Professionals. The Board and Symposium committee teams are hard at work developing a fantastic program. There are sessions for every level of experience; from recent graduate to seasoned practitioner.
Questions? Please email info@pshrmsymposium.com