Updated Announcement:
As HR and business professionals, we are often asked to manage issues, large and small, that affect our employees. Sometimes we don't have the luxury of having seen these issues beforehand so we are forced to operate with no template or best practice on the best way to proceed. While there has been general guidance circulated on how to respond to the COVID-19 medical emergency, we are all making specific decisions every day to keep ourselves and our employees safe. Philly SHRM is no different. It is with this commitment to the health and wellbeing of our attendees, sponsors, speakers and staff that we are making the difficult decision to postpone the 2020 Philly SHRM Symposium.
We are currently working with our venue and speakers to finalize the new date and will update everyone once those details are confirmed. Thank you in advance for your patience and flexibility as we work through this very complex issue.
Jackie Linton, Philly SHRM President
Jameel Rush, Symposium Chair
Check out the 2020 Breakout Sessions & Speakers!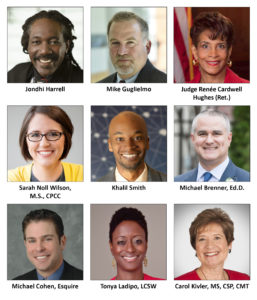 2020 Philly SHRM Symposium Keynote Speaker is…..Simon T. Bailey!
Best-selling Author, Renowned Speaker and one of SUCCESS Magazine's Top 25 People Who Will Help You Reach Your Business and Life Goals.
Learn more about Simon here!
2020 Philly SHRM Symposium Closing Speaker is…..Jeff Wald!
President & Co-Founder of WorkMarket
Learn more about Jeff here!