Philadelphia SHRM Professional Development Event
Businesses that promote a positive organizational climate tend to engender employee engagement and loyalty which hopefully results in positive bottom-line results. One powerful strategy shown to achieve this desired result is incorporating gratitude as part of an organization's overall systemic employee relations and recognition activities. Gratitude communication involves expressing appreciation or thanks to others. It is an important tool for increasing engagement levels inside and outside organizations. This unique workshop-style session will provide business and HR professionals with research- and theory-supported practices for fostering a gratitude communication climate. Emphasis will be placed on recommendations for creating a climate of gratitude, sending gratitude communication internally (i.e., involving executives, managers, and frontline professionals) and harnessing the power of gratitude to increase employee engagement and productivity. The session will include many real world stories highlighting the use of gratitude communication to transform individuals, relationships, and the overall organization. The session will also provide many innovative practices which participants can immediately put into action.
Participants will learn:
How to create a positive climate of gratitude and impact employee engagement and productivity.
How to implement gratitude communication in a manner consistent with laws, rules, and critical HR functions
How to ensure gratitude communication is beneficial for all stakeholders
How to apply gratitude communication to creatively address business needs
How to foster buy-in and aligning gratitude communication with organizational culture
How to deliver specific expressions of gratitude and framing larger gratitude initiatives in an effective manner
How to maintain openness to cultural similarities and differences regarding gratitude communication
How to perform with integrity in all aspects of gratitude communication
How to make sound decisions in the area of gratitude communication
How to use HR-led gratitude communication to advance the core business
Speaker:
Ross Brinkert, Ph.D., is Associate Professor of Corporate Communication at Penn State Abington and Co-Chair of the Training and Development Division of the National Communication Association. Ross recently completed a three-year research project on gratitude communication in the workplace and is currently writing a book titled The Gratitude Opportunity. He is a sought-after professional speaker with over 15 years of experience and is well-known for engaging participants with customized content, a lively style, and clear and practical takeaways.
---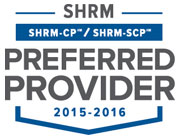 Approved for 2.5 SHRM Professional Development Credits! Philly SHRM is recognized by SHRM to offer Professional Development Credits (PDCs) for SHRM-CP or SHRM-SCP.
This program has been approved for 2.5 HR (General) credit hours toward PHR, SPHR and GPHR recertification through the HR Certification Institute. Please be sure to note the program ID number on your recertification application form. For more information about certification or recertification, please visit the HR Certification Institute website at www.hrci.org.