Brand Together
Develop your career to maximize your opportunity for success. The Philly SHRM Chapter is happy to announce that the HR Career Development series is back. Philly SHRM is sponsoring a free HR Career Development Series designed to provide valuable career information for current or aspiring HR professionals. Whether you are pursuing entry into the profession, are in transition or are looking to solidify your career objectives, this series will help you establish a definitive plan for entry and progression in the field relative to your interests and goals.
The Speaker Series will consist of a set of sessions that will consist of an informative presentation and the opportunity to network with a large group of career oriented professionals.
Session 1: Brand Together
It's a candidate's market. And just like people shop brands, talent shops places to work. In order to catch the attention of rock star candidates, you need to differentiate your company and create an immersive workplace experience your top candidate simply can't resist.
"Brand Together" is a "playshop" about branding, choices, motivation, affinity, and loyalty, designed to awaken the power of branding within the HR community. This playshop will show all levels of HR Professionals how brand plays a role in the choices they make in their own lives, as well as how job seekers tap into brand fantasies when they're evaluating companies as places to work.
In this session, we will discuss the idea of brand fantasies and how they influence your company's talent brand.  From there we'll dive into why your talent brand matters, and why it's worth the investment. We'll then walk through the process of creating a talent brand by highlighting, first, how critical it is that HR and Marketing collaborate during the process so that Marketing can drive messaging while HR bundles benefits, perks, purpose, and culture as a reason to choose their company as a truly great place to work.
Speaker: Anne Ryan, Director of Brand Strategy at Brownstein Group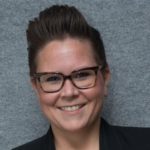 About Anne Ryan: At the center of Anne's core is insatiable curiosity and a sharp business acumen. As the Director of Brand Strategy, this combination serves clients well as she works tirelessly to unearth the insights and strategies that will allow our clients' brands to redefine categories, bond with their audiences, and, ultimately, increase sales. With over twelve years of experience in developing strategies for brands like IKEA, UnitedHealthcare, DuPont, and Comcast, Anne inspires her team to push their strategic rigor, go deep, and only emerge when they believe they've landed on a truly transformative insight.
While Anne loves any good brand challenge, she's especially taken by Talent Branding. You can find her speaking around the country to rooms full of HR and Marketing professionals about using their master brand to attract the best talent…and keep it! And if you really want to get her going, ask her about The Greatest Generation – Seniors. The first generation to feel truly invincible and defy the aging process is an agency specialty and a category near and dear to her heart.
Prior to joining Brownstein, Anne served as the Director of Strategy and Analysis for a digital marketing agency that focused on connecting B2B brands. She also spent the first half of her career implementing customer acquisition programs for financial services institutions, including Citibank and Capital One.