Importance of Data Analysis with HR Systems
RESCHEDULED TO 3/27
Develop your career to maximize your opportunity for success. The Philly SHRM Chapter is happy to announce that the HR Career Development series is back. Philly SHRM is sponsoring a free HR Career Development Series designed to provide valuable career information for current or aspiring HR professionals. Whether you are pursuing entry into the profession, are in transition or are looking to solidify your career objectives, this series will help you establish a definitive plan for entry and progression in the field relative to your interests and goals.
The Speaker Series will consist of a set of sessions that will consist of an informative presentation and the opportunity to network with a large group of career oriented professionals.
Session 2: Importance of Data Analysis with HR Systems
Data driven decision making leads the way for most companies today, and HR is no exception. HR has evolved from just the companies personnel department, to engaged business partners, that leverage people analytics to forecast things like business growth, and engagement. The HR profession uses several types of platforms to achieve these goals, and this session is designed to understand the connection between data analytics and how we use HR systems to process this information that helps businesses make the best decision for a given situation.
About our Speaker: 
Valerie Wandler, CHRO at Morgan Lewis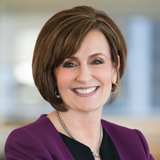 Valerie Wandler oversees the human resources policies and practices for Morgan Lewis's 3,800 lawyers and professional staff. Valerie's experience spans the whole of human resources management, including United States and international compensation, executive and board compensation, employee benefits, wellness, employee communications, shareholder services, compliance, and human resource management systems (HRMS). She also brings knowledge of oversight of policies, programs, talent attraction, development, and succession planning.