Hosted by Juno Search Partners and Philly SHRM
All gender identities are welcome to join Philly SHRM and our friends at Juno Search Partners for a networking event in celebration of Women's History Month!  Lite appetizers, beer, and wine will be served.  Bring your business cards, mingle, and enjoy!
There is no cost to register, however your ticket into the event is:
Bring at least 2 items to donate to The Wardrobe.  Drop off bins will be at the door!  Most needed items include: all clothing for the spring and summer seasons, casual and professional menswear in all sizes, extra small and plus size womenswear, mens dress shoes and sneakers, accessories (belts, scarves, purses/handbags, hats), new basics (socks, bras, underwear), and new toiletries (deodorant, shampoo/conditioner, feminine products, lotion, shaving products).
Go Here to learn more about what to donate.
AND/OR
Make a monetary or Amazon Wishlist donation here and show us your receipt at the door.  If you forget to donate in advance, you can do so upon arrival to the event.
We look forward to seeing you there!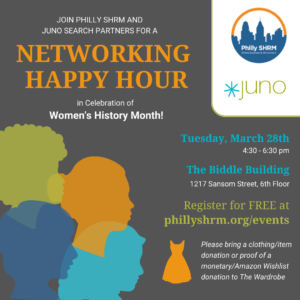 Juno Search Partners is a women-founded and women-led talent solutions firm working every day to connect the right people with the right kind of place.