Diversity in the Workplace
Develop your career to maximize your opportunity for success. The Philly SHRM Chapter is happy to announce that the HR Career Development series is back. Philly SHRM is sponsoring a free HR Career Development Series designed to provide valuable career information for current or aspiring HR professionals. Whether you are pursuing entry into the profession, are in transition or are looking to solidify your career objectives, this series will help you establish a definitive plan for entry and progression in the field relative to your interests and goals.
The Speaker Series will consist of a set of sessions that will consist of an informative presentation and the opportunity to network with a large group of career oriented professionals.
Join us for our first session:
Date: Wednesday, January 20, 2016
Time: 5:30pm-8:30pm
Location: ARAMARK Tower – 16th floor, 1101 Market Street,  Philadelphia, PA 19107
Session Topic: "Diversity in the Workplace"
Join for the first installment of the FREE Career Development Series presentations to benefit you in the progression and advancement of your career as an Emerging HR Leader! On January 20th, Katina Sawyer, Professor from Villanova University, talks to us about the importance of diversity in the workplace. In today's increasingly diverse and global marketplace, it is crucial for HR professionals to understand and create inclusive work environments within organizations. It is also important to understand the power of stereotypes and the extent to which they inform our worldviews, both within a US context and internationally. This talk will prepare emerging HR leaders to: 1) better understand the diversity and inclusion challenges facing HR professionals today and 2) to leverage the positive benefits of diversity and cross-cultural competence, in order to increase the bottom line within their own organizations.
Speaker: Katina Sawyer, Assistant Professor from Villanova University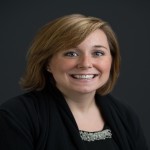 About Katina Sawyer: Katina Sawyer, Ph.D. is an Assistant Professor at Villanova University in the Graduate Programs in Human Resource Development, in the Psychology department. During and after her graduate work, she worked as an independent consultant and for SHL, a global consulting firm, on the Optimization Services team. Her areas of expertise include leadership, diversity, and work-family conflict. Katina is the owner and operator of K. Sawyer Solutions, LLC, which offers consulting services in selection, assessment, performance management, training, and diversity/inclusion.
Over the years, Katina has published numerous peer–reviewed articles and book chapters about leadership, diversity, and work-family conflict. She has also presented her work at various academic conferences, including the Society of Industrial/Organizational Psychology, National Women's Studies Association, and the Academy of Management. Her work has been cited in Bloomberg Business Week, the Atlantic, SIOP, Psychology Central, Live Science, and within other academic presentations and publications.
Katina is the 2014 recipient of Villanova's Junior Faculty Teaching Excellence Award, which is awarded to one faculty member with less than 6 years of service to the University each year. She is also a 2014 recipient of the Women's Way Powerful Voice Award for her work on gender equality in the Philadelphia region.
Katina holds a dual-Ph.D. in Industrial/Organizational Psychology and Women's Studies from the Pennsylvania State University. She received her B.A. in Psychology from Villanova University.