Approved for 2.25 SHRM Professional Development Credits! Philly  SHRM is recognized by SHRM to offer Professional Development Credits (PDCs) for SHRM-CP or SHRM-SCP. For more information about certification or recertification, please visit www.shrmcertification.org.

Approved for 2.25 General (HR) credit hours toward PHR, SPHR and GPHR recertification through the HR Certification Institute. Please be sure to note the program ID number on your recertification application form. For more information about certification or recertification, please visit the HR Certification Institute website at www.hrci.org.
Philly SHRM Professional Development Event
Work-Life programs are a win for all!
Studies have shown that policies promoting workplace flexibility (such as Telework and Compressed Work Schedules) reduce stress and increase employee morale and workplace productivity.
Former Director of the Women's Bureau in the Department of Labor, General Services Administration's (GSA) Mid-Atlantic Regional Administrator Sara Manzano-Diaz has been focused on workplace flexibility since her time at the DOL when she collaborated with the White House Council on Women and Girls on Flexibility. Currently, her National Initiative at GSA is on Work/Life Balance where she is raising awareness both within the federal community and externally about why flexibility in the workplace is important to employees and employers.
There are many workplace flexible programs and resources which allow employees to balance demands of personal and professional lives.  Additionally, flex policies have allowed employers, like the government, to benefit by attracting and retaining the most talented and productive workforce.
Key takeaways include:
Importance of tools to educate management on overseeing virtual staff.
HR's role in influencing innovation and thought round telework and family friendly policies
Learn from executives about the changing role of HR, and how to be viewed as the respected internal consultant who is dedicated to talent.
Learn how family friendly policies are building a culture of highly engaged employees and innovative thinkers to drive stronger outcomes.
How policies speak to the future office space needs, environmental sustainability and a company's bottom dollar.
Speaker: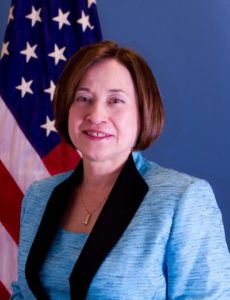 Sara Manzano-Diaz
Regional Administrator
Mid-Atlantic Region U.S. General Services Administration
About Sara Manzano-Diaz:
In May 2012, President Barack Obama appointed Sara Manzano-Diaz to serve as Regional Administrator for the U.S. General Services Administration's (GSA) Mid-Atlantic Region. As Regional Administrator, she serves as the executive for the region and leads 1,000 employees. She oversees the government's real estate portfolio (nearly 800 owned and leased commercial buildings representing 35 million square feet) and the procurement of goods, services, and information technology (over $4.3 Billion annually) for six Mid-Atlantic states, as well as, Africa, Europe and the Middle East. During 2013, she assumed the added responsibility of serving as Acting Regional Administrator for GSA's Southeast Sunbelt Region which includes eight states.
Ms. Manzano-Díaz has spent her career in public service advocating on behalf of working class families, women, and girls. In 2010, she was nominated by President Obama and was unanimously confirmed by the United States Senate as the 16th Director of the Women's Bureau at the United States Department of Labor. The Women's Bureau was created by Congress in 1920, the same year women were granted the right to vote. It is the only federal agency exclusively mandated to serve and promote the interests of working women. Working with the White House, Congress, federal agencies and stakeholders, she focused on domestic and international policies affecting women in the workforce.
Ms. Manzano-Diaz managed 10 regional offices nation-wide and advanced the economic security interest of 72 million working women representing nearly half of the U.S. workforce. She focused on equal pay, work-life balance, higher paying jobs for women (STEM, green, clean energy jobs and businesses), corporate board inclusion, family leave, maternity discrimination, access to capital and markets, homeless women veterans, vulnerable workers, entrepreneurship, and domestic violence. Ms. Manzano-Diaz advocated equality, gender mainstreaming and financial security of women in the Western Hemisphere, Europe, Asia, Africa and the Middle East through their Ministers of Women and/or Labor.
In 2007, Ms. Manzano-Díaz was appointed by Governor Edward G. Rendell as Deputy Secretary of State for Regulatory Programs at the Pennsylvania Department of State. As the highest-ranking Latina in Pennsylvania state government, Ms. Manzano-Díaz managed over 500 employees and was responsible for protecting the health, safety, and welfare of the public by overseeing the licensure of approximately 1 million professionals. She was also a member of Governor Rendell's STEM Initiative Team that supported the development of STEM education, and workforce development programs.
From 1995 to 2002, Ms. Manzano-Díaz worked in various capacities at the U.S. Department of Housing and Urban Development including as Deputy General Counsel for Civil Rights and Litigation, where she managed over 500 attorneys nationwide and enforced fair housing, civil rights, and anti-discrimination laws. While at HUD, she implemented a Compliance Agreement against the largest public housing authority in the country that resulted in the creation of 9,000 disabled housing units in accordance with the Americans with Disabilities Act.
Ms. Manzano-Díaz also previously served as an Assistant Attorney General in New York where she conducted investigations and prosecuted allegations of consumer fraud. She also served as a Judicial Assistant and Pro Se Attorney in the New York State Judiciary.
She served as co-chair of The Forum of Executive Women's Mentoring Committee, which mentors young professional women as they begin their careers, and also participated in Madrinas, a program that provides mentors for at-risk Latina girls to encourage them to finish high school and attend college.
Ms. Manzano-Díaz holds a Bachelor of Science degree in Public Relations and Communications from Boston University and a Juris Doctor degree from Rutgers University School of Law.
Philly SHRM Cancellation Policy: No refunds will be given once registration is completed. If you choose to be invoiced for an event and do not attend, you will still be required to pay the full registration fee.