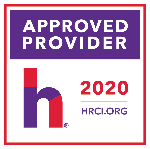 Approved for 2.25 HR (General) Credit hours toward PHR, SPHR and GPHR recertification through the HR Certification Institute. Please be sure to note the program ID number on your recertification application form. For more information about certification or re-certification, visit the HR Certification Institute website at www.hrci.com.  The use of this official seal confirms that this Activity has met HR Certification Institute's® (HRCI®) criteria for recertification credit pre-approval.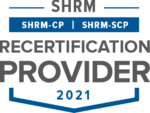 Approved for 2.25 SHRM Professional Development Credits. Philly SHRM is recognized by SHRM to offer Professional Development Credits (PDCs) for SHRM-CP or SHRM-SCP. For more information about certification or re-certification, visit www.shrmcertification.org.
Quarterly Workshop
No more "churn and burn!" No more wishing, hoping, teeth-gnashing, or crossed fingers to keep folks from rushing to the exits!   Are you ready to make this the "Year of Retention?" While our websites paint perfect pictures of teamwork and World Class Customer Care, does everyone really, I mean, REALLY, appear as engaged as they do on the home page? Imagine a corporate culture defined by every team member embracing change, owning problems, and taking personal accountability for their part in creating an EXTRAORDINARY organization. Organizations that fail to fully appreciate, coach, and inspire team members, lose the battle to retain them! Haphazard, nonspecific retention strategies result in negative outcomes including loss of productivity, debilitating workplace stress, high accident rates, no-call-no-shows, pervasive overtime costs, elevated team dysfunction, and low accountability. GREAT NEWS AHEAD! This session promises to transform the energy traditionally reserved for handwringing, complaining, and worrying into strategies that create inclusive, positive, and cooperative work environments. Come prepared to receive countless ways to kick this "workforce crisis" in the tail!
Retention 911: Reviving, Inspiring, Engaging, Retaining! promises to take you into the hearts and minds of your colleagues to reveal what inspires and motivates them to truly LIVE your organization's Mission, Vision and Values. This unique offering will serve as the Train-the-Trainer for anyone interested in becoming a "Certified Staff Whisperer."
Outcomes:
Participants will identify the root causes and conditions that create lack of morale and stifling turnover as well as review the latest research, theories and practices focusing on engagement and retention. The tools used are derived from the works of Daniel Pink, Brene Brown, Simon Sinek, Kouzes and Posner, the Gallop Survey resources, among many, many others.
Participants will assess their professional skillset against research-based competencies necessary to coach and inspire colleagues and direct reports to greater loyalty and a healthy sense of belonging. We will identify the hallmarks of a vibrant and inclusive culture and the leadership accountabilities that create such environments.
Participants will analyze and evaluate critical touchpoints occurring across the entire organization including: New Team Member Orientation, The Onboarding Process, Performance Evaluations, Standards of Supervision, Write-Ups/Discipline, and Team Member Recognition.
Lastly, participants will develop a 30-day plan designed to create departmental cultures characterized by an elevated commitment to external and internal customers as well as the organization's mission, vision, and values.
Meet the speaker: Christopher Ridenhour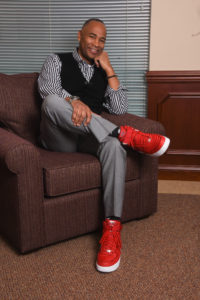 As Director of Workplace Culture for a Pennsylvania-based Long-Term Care and Social Services organization, Christopher develops and delivers high impact staff education focused on World Class Hospitality, Elevated Employee Engagement, New Supervisor Training, Aspects of Inspired Leadership, Total Team Commitment, among other critical team competencies.
For the last 20 years, he's traveled across North America and Canada keynoting and training for National Aging and Human Services Associations including LeadingAge, Argentum, American College of Healthcare Administrators, American Healthcare Association, Pioneer Network, National Center for Assisted Living, and the Ontario Association for Non-Profit Homes and Services for Seniors. Of particular interest may be the successful consultation and educational leadership he's provided to several local institutions including: The United Way of Southeastern PA(training/technical assistance to 50 member agencies), Philadelphia Department of Human Services, University of Pittsburgh School of Social Work, Lutheran Children and Family Services, Tabor Children's Services, CORA, Silver Springs Martin Luther, Congreso De Latinos Unidos, National Adoption Center, The Philadelphia School District, Camden School District, Pottsville School District, Fellowship Farm, Penn State University, Temple University, Children's Hospital of Pennsylvania Swarthmore College, University of Pennsylvania, West Chester University, and many others.
What is a Quarterly Workshop? These are 2.5-3 hour content-packed workshops which feature a keynote speaker or panel presentation, followed by hands-on application of the event concepts. These workshops typically earn 2.5-3 HRCI/SHRM credits.
*Please note, if you register as a Non-Philly SHRM member and then become a member, we will not refund the difference. Please email us at info@phillyshrm.org if you are interested in becoming a member.