Approved for 2.25 SHRM Professional Development Credits! Philly  SHRM is recognized by SHRM to offer Professional Development Credits (PDCs) for SHRM-CP or SHRM-SCP. For more information about certification or recertification, visit www.shrmcertification.org.
Approved for 2.25 General (HR) credit hours toward PHR, SPHR and GPHR recertification through the HR Certification Institute. Please be sure to note the program ID number on your recertification application form. For more information about certification or recertification, visit the HR Certification Institute website at www.hrci.org.
Philly SHRM Professional Development Event
Our company websites paint the perfect picture of communication, synergy, and a commitment to world-class client care.  As you walk through your halls, however, does EVERYONE really appear as engaged and energized as they do on your home page or the glossy trifolds? According to the latest Gallup Employee Engagement Survey, only an abysmal 34% of our colleagues can be counted among the living. They might be accounted for, but not fully present!  Imagine the levels of success your stakeholders would experience if every staff member embraced change, owned problems, and took personal accountability for their part in creating an extraordinary workplace culture.  Participants can expect a mix of theatrics, storytelling, and unconventional activities based on researched, theoretically-based business theories and practices, and more importantly, will walk away with strategies and practical tools for Business Management & Risk Management that will increase engagement, accountability, and passion at all levels of their organization from associate/employee to senior leadership.
Transforming our organizational cultures requires each of us become role models for the behaviors and attitudes we expect from others.  While we all recognize the transcendent benefits the come with Staff Engagement, the actual tools and actions are useless without commitment.  LIGHT'EM UP AND WATCH'EM GO! promises to reveal the competencies necessary to influence and inspire your colleagues to greater performance.  Robust conversations, activities and humor will take you into the hearts and minds of your colleagues to reveal what inspires and motivates them to truly LIVE the organization's Mission, Vision and Values.  This unique offering will serve as the Train-the-Trainer for anyone interested in becoming a "Certified Staff Whisperer."
Speaker:
Christopher Ridenhour, Director of Employee Engagement and Customer Service Training, Liberty Lutheran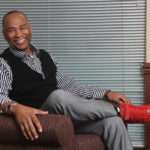 As Director of Employee Engagement and Customer Service Training for a Philadelphia-based Elder Services Management Company, he develops and deliver high-impact staff education focused on World Class Hospitality, Elevated Employee Engagement, New Supervisor Training, Aspects of Inspired Leadership, Total Team Commitment, among other critical employee competencies.
For the last 10 years, Christopher Ridenhour has traveled across North America and Canada keynoting and training for National Aging Associations including LeadingAge, American College of Healthcare Administrators, American Healthcare Association, Pioneer Network, National Center for Assisted Living, and the Ontario Association for Non-Profit Homes and Services for Seniors.  Characterized by a HIGHLY INTERACTIVE and participatory style, audiences are provoked to consider how interpersonal relationships impact EVERYTHING: Customer Service, Cultural Change Initiatives, Retention, Staff Engagement, and ultimately our REVENUES.  Behavioral science, principles of organizational development, and tons of observational humor are used to identify critical staff competencies necessary to create cultures of excellence.