Approved for 1 SHRM Professional Development Credit. Philly SHRM is recognized by SHRM to offer Professional Development Credits (PDCs) for SHRM-CP or SHRM-SCP. For more information about certification or re-certification, visit www.shrmcertification.org.

Approved for 1 Business Credit hour toward PHR, SPHR, and GPHR recertification through the HR Certification Institute. Please be sure to note the program ID number on your recertification application form. For more information about certification or re-certification, visit the HR Certification Institute website at www.hrci.org.
Philly SHRM Webinar
Have you ever stopped to ask, "What are my organization's values? Or perhaps, "How would I describe my organizational culture?"
Now take it a step further and ask yourself, "Are my organization's values reflective of our culture and vice versa? And how do our values and culture reflect our outward brand to potential employees, stockholders, vendors, etc?"
Finally, stop to think, "What would we, as employees, do if our company chose to took a strong stance on a current event, cause, or movement? How would that look & how would that effect our colleagues, customers and culture?
Join us for this hour long webinar to dive into those questions and more as we explore the next chapter in brand-sponsored content.
Over the last half-century, marketing has gotten progressively more niche – from the Pepsi Generation campaign on, brands have worked to identify with their key demographics in increasingly unique ways to differentiate themselves from competitors in marketplace that's getting more crowded by the hour.
Brands that successfully positioned their products in the minds of consumers were successful through the 70s, 80s, and 90s. Typically, they'd use campaigns to support these longer-standing platform positions in order to gain, expand, and reinforce brand awareness. As market categories grew more diverse and specific, marketers began to grow more nuanced in how they segmented and targeted their messaging. One way brands began to stand out to larger categories of consumers over the past two decades was to align and position themselves on values. These values-based brands stood out among traditional marketers for their honesty and relatability just as consumers were growing more skeptical of traditional marketing.
Now, in the midst of a charged political climate, this values-led approach has begun reflecting the culture of our times, with brands like Nike, New Balance, and Under Armour increasingly competing as much over their political stances as much as their products and sponsor athletes to stand out and attract like-minded consumers.
This session will explore how current events are shaping, and being shaped by, marketing, and how taking a stand on a controversial issue can have a powerful impact a company's employees, customers, and culture.
Presenter Kris Blake: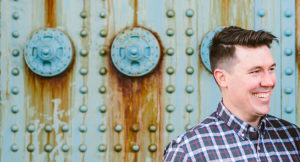 Kris Blake is an award-winning creative with experience working across a wide range of categories including breweries, healthcare, financial services, and professional sports. His past clients include the NFL, Philadelphia Eagles, Under Armour, U.S. Open (tennis), Washington Nationals, Lidl, and UNICEF. Kris took an unconventional route to the creative marketing industry, earning his MBA and then going on to ad school at New York City's Adhouse. There, he learned from some of the world's leading Creative Directors at agency's like BBH, Ogilvy, and JWT. In his current role as Executive Creative Director at [ 2 one 5 ] Creative, Kris works with a variety of clients including machineQ/Comcast, The Golf Association of Philadelphia, and Incyte Pharmaceuticals. He is responsible for setting the agency's artistic direction as it expands its roster of global and national lifestyle brands. Kris resides in Philadelphia with his wife and their beagle mix.
Established in 2001, [ 2 one 5 ] Creative specializes in brand development and strategy, website design and development, and video production. We collaborate with our clients to develop authentic, lasting connections that inspire customers to take action.
*Please note, if you register as a Non-Philly SHRM member and then become a member we will not refund the difference. Please email us at info@phillyshrm.org if you are interested in becoming a member. 
Interested in getting your brand in front of the HR and business community in Philadelphia? Consider sponsoring this Philly SHRM event! Email info@phillyshrm.org for more information.