2022 Leadership Forum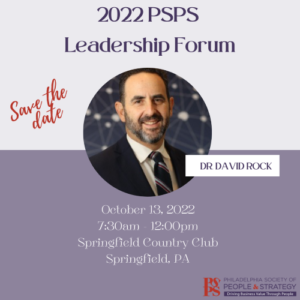 Early Bird Pricing Now Available (until August 31, 2022)
Does your organization need to adapt faster in the ever-changing world of work?
Come join us at the 2022 Leadership Forum on October 13 at Springfield Country Club! We'll feature an inspiring keynote from Dr. David Rock, CEO of The Neuroleadership Institute, titled "Adapt Faster – The Science of Changing Mindsets, Behaviors, and Cultures At Scale." Dr. Rock coined the term "neuroleadership" over 20 years ago, and founded the NeuroLeadership Institute, a cognitive science consultancy that advises more than 50% of the Fortune 100.
He'll be talking about how you can use neuroscience to create large scale organizational change in weeks not years. A moderated panel discussion with leaders who are actualizing the concepts introduced in the presentation will follow.
Join us for this unique opportunity to learn from one of the most renowned experts in the field of neuroscience as he shares his insights with you! We hope to see you there!